Maeesha B – "Go To The Flow" confirms all the promise she showed on her debut!
There is no denying the resurgence of R&B. The genre has exploded, growing in dominance and popularity making room for captivating artists to share the spotlight. Maeesha B, hailing from Ottawa, Canada, is singer-songwriter who has a silk lining to her voice, which beautifully drapes over familiar yet refreshing R&B production. Maeesha B has been singing and rapping since age 6. At age 11, she was certain that she wanted to establish a career in music, and at age 13, she has turned heads with her talent. Still in her early teens, Maeesha B is currently working with celebrity vocal coach Shaun Royer, producer Jonah Wei-Haas, Roy Hamilton III, Producer from The Singer's Company, photographer Mylène Desbiens, Bonheur of Thefka studios, and Tomxfilm Production, to develop her solo work.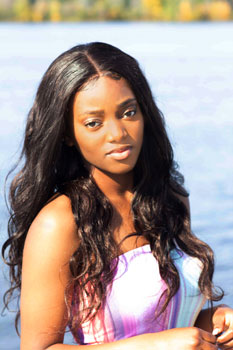 The single, "Go To The Flow" introduces us to a young artist who knows who she is and who is ready to change the world. Her music carries its own collection of distinct ideas while providing a picture of Maeesha B and all she has in store for us.
After three minutes and nine seconds, we can sketch a picture of who Maeesha B is as an up and coming artist. The confidence behind her words and voice persists throughout the project. Her sound pulls from all over, as it ebbs and flows between her influences, while taking on a life of its own.
The beat's movement sits within a tight groove without becoming jarring or uncomfortable. The energy in the sound likens the growth of a gentle breeze into a refreshing gusto. All the while Maeesha B is in control of the track.
She understands traditional song structure enough to work it into something easily accessible yet intriguing. "Go To The Flow" wields a sentimental hue while maintaining a sort of electricity that is uniquely Maeesha B's own.
"Go To The Flow" makes it clear that Maeesha B's fun has only just begun. She combines boundless teenage optimism with wisdom beyond her years.
The project displays Maeesha B's comfort with blending her sentimental storytelling to a dancefloor beat, stitching together a sound that tells her truth as accurately as possible. It's a perfect blend of that '90s R&B nostalgia your parents blasted on Sunday evenings and a funky spin on contemporary R&B.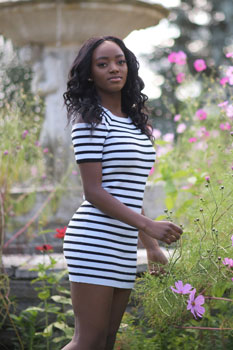 A true artist to keep your eye on and ear pressed to for new music, "Go To The Flow" proves why 2022 just might be Maeesha B's big year. She brings a great aesthetic to her music with her beautiful voice, which lures the listener in.
She is also a fantastic songwriter, which helps to create an immersive listening experience. All of which points to the fact that she is ready to make a splash in the mainstream pop and R&B arena in the near future. Moreover, she is already playing the piano, and aiming to incorporate it into her performance.
Clearly, Maeesha B is just getting started on her way to rule the roost. Her impressive debut, "Nobody" in January 2021, marked an important milestone in her career, and now a year later, after cultivating, growing, and molding her vision, "Go To The Flow" confirms all the promise she showed on her debut.
An artist with her malleability and talent only assures us that Maeesha B is here for the long run. We will continue to watch her career closely as she undoubtedly will be making waves. In fact, she probably will go above and beyond our expectations. So keep listening.
OFFICIAL LINKS: INSTAGRAM – FACEBOOK – TWITTER – TIKTOK – YOUTUBE