Jovan Marie is collecting prestigious accomplishments and endeavors
Pursuing a career in the music business is a courageous feat, with complications arising for both rookies and veterans. Yet in the case of Jovan Marie, those complications will not hold her back. Through sheer concentration on her material, Marie keeps her confidence. "I'm in a good place right now," states Marie. "I'm not hard on myself when it comes to creating."
However, faith in her process aside, Marie knows that ultimately she is in the music business; which is indeed more business, than music. Therefore, Marie has recently applied to be signed to Issa Rae's new record label Raedio, via the label's Emerging Artist Program. Raedio also has a partnership with Google, and it's mainly designed to be a meaningful haven for female artists.
Marie has also recorded two songs with former rapper and current producer, Father MC, who has helped prominent names Jodeci, Mary J. Blige, and Sean 'P. Diddy' Combs, earlier in their careers. Marie and Father MC met while they were both in Las Vegas, and they enjoyed working with each other. The two songs Father MC wrote and produced for Marie were engineered, mixed, and mastered by Enimal, who also engineers for rapper J. Cole.
"It was amazing working with Father MC and Enimal," states Baron Jay Littleton Jr., the executive producer of Marie's project. Marie embraces collaboration with practically any artist and she is comfortable with any instrumental that's thrown at her. "I like variety, I'm used to melodic tunes", expresses Marie. "But lately I've been getting more trap and hardcore rap beats. I go along with it because creators create." The tracks themselves aren't underappreciated, since she raps over the trap and hardcore beats. Now, let's be clear, Marie isn't an artist who likes to remain solely in the studio.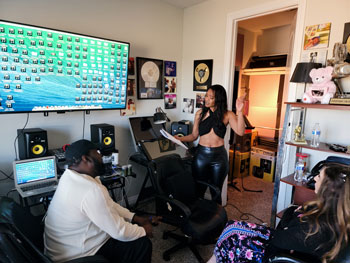 "The studio is one thing, but being on stage is where I'm truly in my element," confesses Marie. She has backed up that statement by recently performing at the SOAR Awards, which will air exclusively on YouTube on March 20th, 2022. To further her exposure, Marie will go on a three-city tour that'll take place in California and Nevada. The tour will be sponsored by Simply Credit Consulting, and please visit the website, simplyconsultingcredit.com.
Marie is also cast in the sitcom House Out of Order, playing the singing bartender Syrup. "I met Bentley Kyle Evans (House Out of Order's executive producer) through Baron Jay Littleton Jr," Marie mentions. "We were at the Team Watson vs. The Pump Bros celebrity baseball game that was headlined by Jamie Foxx and his BSB (Brown Sugar Bourbon) Brand. And within five months of us knowing each other, I'm playing a role in one of Bentley's shows."
House Out of Order can be seen on National Black Television; feel free to visit the website nbtme.com, as well as download the NBT app via Apple TV, Roku, and Amazon Firestick. Another outlet to view House Out of Order is through the FLOW network, a channel available on Roku. The FLOW network is based in the Caribbean.
While her prestigious accomplishments and endeavors are surely because of her abilities, Marie largely credits Baron Jay Littleton Jr. with changing her life for the better. "Not only do we have a fantastic professional relationship, but also a beautiful, heartfelt romantic relationship."
Through it all, Jovan Marie doesn't have a stop in her movement. "No matter who I work with, my style is my own, it's still Jovan. I own myself as an artist, a creator, and most of all, a woman."
– (written by Quentin Marc Milroe)
You can check out Jovan Marie's hit single 'Real Good Love' on all digital platforms:
https://distrokid.com/hyperfollow/jovanmarie/real-good-love
Jovan Marie's Instagram: @4jovanmarie
Baron Jay Littleton Jr's Instagram: @baronjaylittleton
House Out Of Order's on Instagram: @houseoutofordertv
Quentin Marc Milroe can be reached at qmmilroe@gmail.com
Viva Las Vegas Jingle
Jovan Marie Sings National Anthem
Jovan Marie sings Opera at P. Diddy Revolt Summit