Sherry Amour – "Changing" – the pain of betrayal by the one you love
Sherry Amour does more than sing on her single, "Changing," she touches the heart and speaks to the soul. Chicago, IL native, Sherry Amour is the singer, songwriter, and recording artist with the voice of a goddess known for her music that exudes R&B, Soul, and funk. Influenced by timeless icons like Whitney Houston, Stevie Wonder, Tina Turner, Anita Baker, Cher, and Brandy among others, she has embarked along the path of iconic status herself with vocals that mastered the art of singing.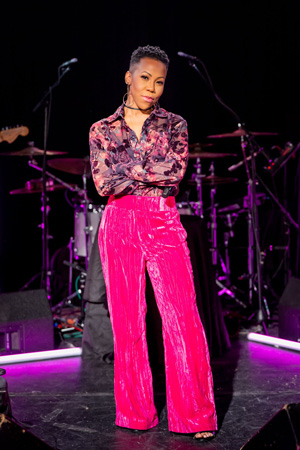 Sherry Amour is not only educated, with a degree in Arts, Entertainment and Media Management from Columbia College of Chicago, but her music tells of her future stardom in the industry. Upon release of her latest album, "Mirror, Mirror" there were no qualms as to her place as a talented artist. Sherry Amour delighted fans with a Virtual Concert Experience that was met with great success during the pandemic.
"Mirror, Mirror's" accomplishments are credited to Sherry Amour's passion for singing along with the wave of experiences that inspired the album. Inclusive of her father's disappearance in her life after 27 years, and her ex-fiancé's infidelity, Sherry Amour poured every emotion revolving around her heartbreaks. With the album being well received, her single, "Changing" has gotten a constant echo of complimentary emotions for its realness, depth, and inspiration to all knowing the pain of betrayal by the one you love.
"Changing" is reflective of Erykah Badu's "Bag Lady," exposing the baggage weighing upon Sherry Amour after her ex of 2 & 1⁄2 years broke their sacred trust of love. Sherry Amour details dealing with her then future husband being engaged to another woman while entertaining his ruse of marriage and California dreams with her. Ultimately, Sherry Amour uses her hurt to inspire her audience, ending the chorus with the potent line, "…No matter what I do, I can't change into you…" Stream the vocalist's album, "Mirror, Mirror" and single, "Changing" to follow Sherry Amour's evolution into the rose she is.
OFFICIAL LINKS:
"Changing" (Single): https://spoti.fi/3j3gIgS
"Mirror, Mirror" (Album): https://songwhip.com/sherry-amour/mirror-mirror
Instagram: https://bit.ly/3KavSgp
YouTube: https://www.youtube.com/c/SAmourMusic/videos
Instagram
https://www.instagram.com/samourmusic/
Facebook
https://www.facebook.com/SAmourMusic/
Spotify
https://open.spotify.com/artist/6tAKHZxy7hnFJvLqJSArIT?si=FBtMnb3lSPCp8aBDkVxC2g&nd=1
Website
https://www.sherryamourmusic.com/
Youtube
https://www.youtube.com/samourmusic
Where To Buy Your Music
https://songwhip.com/sherry-amour/mirror-mirror