"A Life Without Lemons" – Wes Luxton was raised on early 2000's era alternative hip-hop
Wes Luxton's "A Life Without Lemons" is a hard-hitting journey into shame, pharmaceuticals, and resentment, in this emotional new-age cult album. Wes is a 23 year old Singer/Songwriter from Traverse City, MI. A passion for hip-hop, music and helping those around him has culminated in his latest project.
Born as a Maryland native and raised on early 2000's era alternative; hip-hop; At 22, he released "Moonfall" a track that caught some attention and promoted him to expose more material.
Soon after releasing additional impassioned; poignant records such as, "Amontillado Casket" alongside "Truman". Later introducing the quirky yet vibrant "Peanut Butter Skies" and the dinner-party gone-wrong "Feast Or Famine", gaining traction into "Moscato" he dives into playful irony, guilt and determination over uplifting lo-fi induced trances.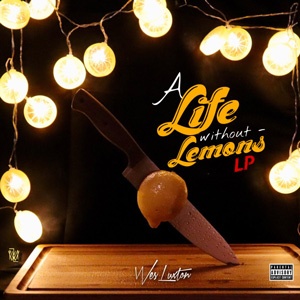 Meanwhile, on "HWEUA" and "Lessons", we find him dancing around pharmaceuticals, shame and resentment pairing calls to acceptance. Heading into "Tilda" we catch ourselves off-guard with an eerie layered horror track intertwined with iconic 80's vengeance themes. Raining in the final track "Tears In Palm Springs", Luxton dwells into painful stories with ties to suicide prevention and mental health awareness donating 20% of all profit to the National Foundation of Suicide Prevention.
"Growing up in the 2010's; hip-hop was really sort of coming to an apex with pride, showboating and always wanting to be bigger and better than everyone else; always trying to one-up someone," he said.
"Growing up with that narrative was tough. A lot of my friends would cut their life short because they never thought they'd amount to level of greatness or have the luxuries that followed."
"I wanted to make sure that, with this album, in making it, that it can really help someone somewhere. That is through the music, lyrics, or listening to it even for a second," he said.
Luxton's "A Life Without Lemons" — a three-year project in the making — is out now available for purchase and streaming on most major streaming services including Spotify and Apple Music, Tidal and many more.
OFFICIAL LINKS:
https://open.spotify.com/artist/1fARf4sWVjdPRlfsvrk93E
https://www.youtube.com/channel/UCxdHODrovW0A2EjYel8lFFA
https://www.facebook.com/wesluxtonmusic
https://music.apple.com/us/album/a-life-without-lemons/1588740537
https://www.instagram.com/wesluxton/
https://soundcloud.com/wesluxton