Psway – "F#ck $hit" brings listeners a song that straight up slaps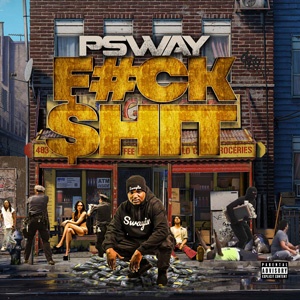 East St. Louis IL native, Psway releases "F#ck $hit" his latest from the new album SWAYLIN. The artist had taken time off to focus on his successful clothing line, Psway Wear, but after many of outreaches for an encore of his music, the artist has answered his call to action and delivered a catchy banger and introduces the next big single"F#ck $hit." The rapper serves "F#ck $hit" to the street wise posers and trolls constantly disturbing his business and demeanor encouraging them to find their passion and chase their own dreams.
The rapper of 10 years' shows his tenacity in the game, bringing listeners a song that straight up slaps, carrying off the production of urban vibes and tunnel vision listening. "F#ck $hit" is a true head bob and bump for anywhere listening and a true script for ignoring the hate and pursuing your game. The artist has recently finished up production and distribution for "Swaylin", his latest album that he just dropped. Psway also writes and creates hooks for other artists encouraging others to stay involved in their passion. He will continue to work on his clothing line and produce music for his global fanbase.
---
Written by Trushiro
---
For more information about Psway and/or the new single, visit psway.hearnow.com today
Social media links: psway_way on Instagram, clothing store pswaywear.com
Youtube channel- https://www.youtube.com/c/Psway
And the site to purchase, download or stream the single F#ck $hit is psway.hearnow.com