Bahar Abbas – "Fickle Feelings" is filled with musicality and lyrical prowess
From the US to Manila and back. Since she was born, Bahar Abbas has been traveling and absorbing everything around her. The daughter of a Nauruan Mother and East African father; she found her identity and security in her diversity. Abbas has had no shortage of influences to draw from in her rich cultural background, bringing a depth to her music and lyrics that far belies her years. She started out writing songs on her own and began recording in her bedroom studio at 12 years old. Although having to use a fake ID to get in as a teen, Abbas was a regular in the live music and open mic scene. She began writing and recording demos for other artists and working with well-known hip-hop based producers.
While attending high school She held down as many as four part-time jobs at a time, other odd gigs and pursuing music, Abbas gained invaluable experience. She went on the grind doing whatever it took to get her music out there, and being a true D.I.Y artist became a jack-of-all-trades, developing the skills necessary for people to take notice.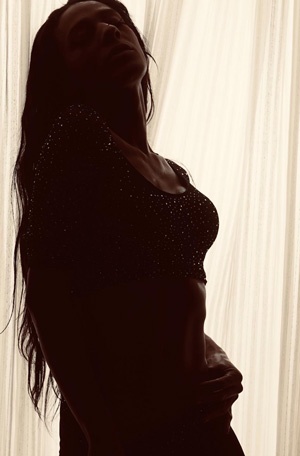 She crafted her first Indie Album "Cigarettes and Lies" in 2007 with the title single performing very well on Myspace's Philippines charts. Furthermore, she used her growing online fan base to book shows in Manila and spent the summer of 08 performing and modeling there. In the fall of 2008, Abbas caught the attention of Universal Records and signed a developmental deal. During that time, she penned songs with numerous well-known writers/producers.
Frustrated with the label's lack of enthusiasm for the solo album she'd been longing to create, Abbas returned to NC, where she incorporated her experiences of the last few years in a series of new songs, resulting in a unique and fresh sound, with an honesty too often missing in today's music. 2008's "This is My Life" Further established Abbas as a talented writer, but would fail to break through to mainstream audiences.
She joined the United States Marine Corps in 2009, and wouldn't do anything music related again until 2012 when she met model and aspiring rapper Everlasting Jones on the set of a photoshoot. Inspired by Jones' passion, she began penning songs for other artists again. She would continue to write, occasionally perform, and record. However, Bahar wouldn't go on to release any official music until 2017's "Vcked" under her own label ©Sadgirlrecords.
The steamy track and accompanying video (which was removed from YouTube) revealed a new Bahar to the world. One who's confidence and personality now matched her talent. Fast Forward to 2022, Bahar Abbas is back with her brand-new EP "Fickle Feelings"! The EP fully displays her wide mezzo-soprano range, musicality and lyrical prowess. In accompaniment of this release Abbas also debuted three new collaborative singles with Everlasting Jones who's spontaneity coupled with the restraint and technicality of Abbas is pure magic.
The two have filmed a music video for their single "Parasite" which is an immediate fan favorite. Abbas is currently recording her debut major album, 'Pentimento' set to release December 13, 2022. A seasoned and poised live performer, her ability to create genre bending forward-thinking music promises great things for the future.
OFFICIAL LINKS:
Instagram
https://www.instagram.com/baharabbasmusic/
Facebook
https://www.facebook.com/TheBaharAbbas
Spotify
https://open.spotify.com/artist/7H3IvSH3zVS8EAlMjP04I1
Soundcloud
https://soundcloud.com/baharabbas
YouTube
https://www.youtube.com/channel/UClKBE_QSi0z5VHdiJUJq32A
Where To Buy Music
https://music.amazon.ca/artists/B071SC45N3/bahar-abbas