Rico Nevotion – 'Keep It 100' ft. Grammy Nominated artist Spliff Star goes deep
'Keep It 100' featuring Grammy Nominated artist Spliff Star, is a song that speaks for so many people. Rico Nevotion, a solo R&B sensation, is a dynamic singer and songwriter who has been crafting one stunning single after another. With his compelling musical compositions running on the radio across continents, from the United States to South Africa, the talented artist hopes to bring back meaningful music, and support causes that matter. Inspired by the greats such as Brian McKnight and Michael Jackson, Rico Nevotion hopes to captivate audiences with music that is boundless and diverse, without sticking to one sound.
An eclectic R&B artist, Rico Nevotion is renowned for having opened with national icons such as Celine Deon, Beyoncé, KC & JoJo, Silk, Anthony Hamilton, Avant, and many others. The artist has toured places such as Japan, Mexico, Dubai, South Africa, and London as well as most of the United States and is known for a devoted fan following that throng venues for his live performances. One of Rico's most iconic feats include performing in front of over 3,000 fans at the Myth Nightclub, one of the hottest venues in the Midwest.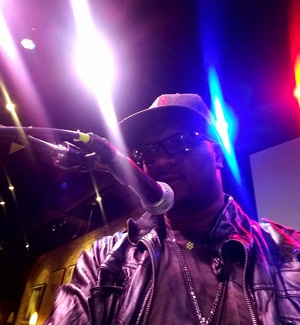 A thoroughly impressive name in the industry, Rico Nevotion works alongside only his street team, assisted by word of mouth and his own fame of being a dynamic radio personality. With records such as, "Take A Walk In These Shoes", which dropped in 2006, "Through Da Storm", which was released in 2008, 'Rico Nevotion', which was unveiled in 2016, and 'Bad Chapter In A Good Book', which dropped in 2017, the seasoned artist has stirred quite a storm in R&B.
Rico also has the honor of winning over a dozen awards for Best R&B Artist, Best Live Performance, Marvin Gaye award and most recently 2018's Best R&B-Soul Album and 2019 Akademia Executive Award among others. The artist has also starred in the television series 'I'm Goin to Church' and the movies 'Set In Her Ways', 'Bunny and Clyde' and most recently 'Krooked Lines'. The promising artist and actor has also starred and directed in an ambitious collection of plays such as 'This Aint No Relationship', 'Riot' and 'I'm a Deadbeat Who'.
Diligently entertaining audiences with his enriching musical compositions, Rico Nevotion's powerful musical compositions capture everything from the depths of the street to the depths of his soul, illustrating a rich spectrum of emotions and stories. With his smooth combination of R&B and contemporary, characteristic spin of Hip Hop, Rico grabs and sustains the attention of all audiences. His vocals embody a distinct strength and emotions that pierce through the heart and soul, touching listeners.
With a promise and passion to reach out to the youth of today with his own range of experiences including gangs, prison, relationships, and mortality, Rico Nevotion highlights a message of hope and strength. With the upcoming release of his new record, 'The Ugly Truth' in late summer 2022, the artist hopes to reaffirm his identity and lay the foundations of a strong base and outlet for rising R&B artists.
OFFICIAL LINKS:
Instagram
https://www.instagram.com/riconevotion
Facebook
https://www.facebook.com/OfficialRicoNevotion
Spotify
https://open.spotify.com/artist/3GeGfmkPjdgNQQNTAs9AxL?si=Xb3QA3yRTy2KhuUsP5n4UA
Website
https://www.officialriconevotion.com
YouTube
https://www.youtube.com/c/RicoNevotion
Where To Buy Your Music