Get Ready to Be Blown Away by VoltageHead's 'Cannonball'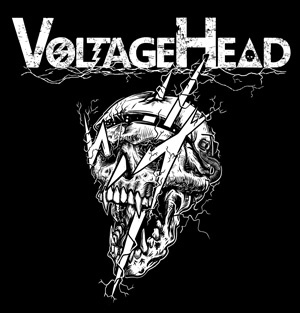 A cornerstone album is organically devised by experience. For VoltageHead, they debut with their spearhead effort, a collection of the nastiest, most powerful hooks and riffs that are heard in rock. For what seems to be their maiden effort, they sound like seasoned stadium rockers, and this is what can be defined as a greatest hits album, already. This is Cannonball. Like Corey Taylor's gruff but melodic vocals and a Morello like returning hook. Cannonball breaks open this record.
The rhythm section draws you in for the kill and the vocals paint the storyboard with ease. To appreciate that opening riff, the breakdown takes a doom metal section, pulsating for what will be the next kill. It is a reflection of what this album has in store, with the insane guitar tones to the baritone vocals that perfectly express what the lyrics might feel like. This is a song that is prided by the band for the riff, lyrics and the effect it has.
No stone is left unturned for this debut. This is what they will be known for. Chaotic textures are adrift, but they all point to the same direction – aggression driven melody. At many times, bands compromise on the music for the lyrics, and vice-versa. Voltagehead can admit with pride, their songs have attracted a certain sheen owing to the excellent production work as well as performance. There is no winging it, only bringing it. Now listen to this insane track of their debut while I wipe the sonically produced sludge from my face.
OFFICIAL LINKS:
Instagram
https://www.instagram.com/voltageheadofficial/
Facebook
https://www.facebook.com/voltagehead/
Spotify
https://open.spotify.com/artist/4PXDrXU1GuZTfNpxlVJnm9?si=Tomfi0SITduKiJrdz54J6g
Website
https://voltagehead.bandcamp.com/releases
Soundcloud
https://soundcloud.com/voltagehead
Youtube
https://www.youtube.com/@VoltageHeadOfficial
Where To Buy Music
https://voltagehead.bandcamp.com
(First published on Good Music Radar Magazine https://www.goodmusicradar.com/rock/voltagehead-cannonball)