Thugod has been accumulating a series of successful projects
Thugod Noo LLC Releases "Balenci" — Recorded by Award Winning Engineer Laphelle. The versatile rapper, Thugod, is the head of his music distribution company Thugod Noo LLC, which offers music marketing and distribution for underground artists struggling to make it in the music industry. His versatility is unmatched due to his unique sound as a rapper and singer. In his recent hit, "Balenci," Thugod tells a story throughout his work. His lyrics describe a high-class woman living a glamorous lifestyle; in other words, she is known as a deadly female Balenci boss to others. She is part of a secret assassin society of beautiful women who know the game – this group of women plots on their victims by using their looks to draw their targets closer. Thugod continues to place a long lasting impression among other major artists and his surrounding communities.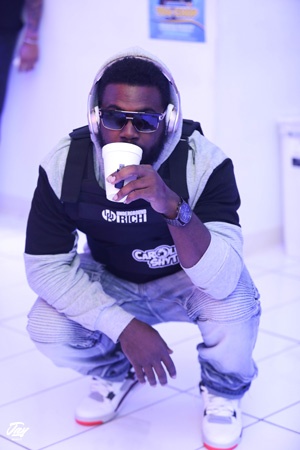 Here are some of his current projects that were popular among people of different ages.
● His Thugolicious Bbq Sauce inspired by his song, "Sauce."
● The Sauce Cookbook and Destiny on Amazon
● His upcoming comic book and coloring book to educate and elevate the younger community.
● His Nft and metaverse projects
● And many more projects associated with a plethora of events in the pipeline.
A reporter with the Ritz Herald referred to him as "the next rising star" under Thugod Noo Ent. LLC and recognized his famous Thugolicious sauce sold in local stores across NC. About Thugod Noo Ent. LLC: Thugod Noo LLC is a marketing and music distribution company based in Greensboro, NC. It has a subsidiary called Push N Pull Marketing group that offers music marketing and music distribution. Thugod and his partner Nicholas Campbell established their company in 2020 to give more opportunities to the local artist living in Greensboro, NC. Thugod Noo LLC is a space for fervent music artists to venture into their musical careers and artistically grow in their own image. More information can be found at thugodnooentertainment.com.
OFFICIAL LINKS:
Instagram
https://www.instagram.com/thereal_thugod/?hl=en
Facebook
https://www.facebook.com/musicdigitalmarketingagency
Spotify
https://open.spotify.com/playlist/7G6a2smXIAKtl14yGDgrZ2?si=OazSsoB8Q6S7z-fpFfZ-Yg
Website
https://thugodnooentertainment.com/
Soundcloud
https://soundcloud.com/user-395019814?utm_source=clipboard&utm_medium=text&utm_campaign=social_sharing
Youtube
https://youtu.be/KpopLVT3ifE
Where To Buy Your Music
https://ffm.to/balencipre.OPR