TaniA Kyllikki – "H.W.C." reaches straight to your heart!
From the very first bars of her brand new single, "H.W.C.", it becomes quickly clear that singer-songwriter TaniA Kyllikki has now reached a time in her life where she has a plethora of experiences she can reflect, reminisce, or draw on, when writing. There is a sharp intelligence and a deep sensibility to TaniA's lyrics, as well as a gravity in her voice that firmly keeps the song from collapsing beneath the weight of its extremely high level of artistic elegance, and nuanced expressiveness. A lesser talent could easily sink into a quagmire of sonic and emotional pretentiousness, within an aural soundscape of such an immense ambition. Yet, even though the song's production is immediately impactful, with richly warm, resonating pianos, glossy pads and lush strings, TaniA Kyllikki's strong, distinct and octave-jumping voice, easily slices through the arrangement and reaches straight to your heart.
TaniA Kyllikki's voice has a gorgeous catch that injects anything she sings with a twinge of heart-fluttering poignancy, and when she leans her vocals into emotion-inducing narratives such as "H.W.C.", the resulting effect is awe-inspiring. "Been going through emotions. Questioning your motives. Do you really love me are you here to stay. Hard for me to trust. My hearts been put through enough. My guard is up. My past is to blame," sings TaniA, as she unravels the experience of young woman who has been abused most of her life.
Though the young woman's actual partner is both loving and caring, and has taught her how to trust again, while also helping her heal from her past, she still has moments of relapsing. TaniA Kyllikki's perspective-changing voice navigates this bittersweet story with uncanny soul-searching eloquence, steadily drawing you into her world. It's the compelling expressiveness of TaniA's voice, and her undoubted skill as an emotive lyrical storyteller that raises "H.W.C." way above the pack.
As "H.W.C." moves slowly forward, an aura of insurmountable magnetism begins to purvey the song. Much of it has to do with Garry D. Hairston aka Rynellton's sublime production work, as does the mixing and mastering by Phil Dust, who received the prepared files from John Woodard of Seasons Music Lab. However, a cut above it all, stands the songwriting, and the vocal performance by TaniA Kyllikki, which forms the solid foundation everything else is built upon.
If there is one thing that endures in music, it is the appetite for soulful, female singer-songwriters with huge voices and heartrending pen skills. In both instances, TaniA Kyllikki is simply stunning, and while everything she does on "H.W.C." sounds effortless, and flawless, it is never less passionate as a result. It is obvious that, with time, TaniA will accumulate high-level mass appeal. I would be most surprised if she does not grace most critics and music fans' best of lists for 2022.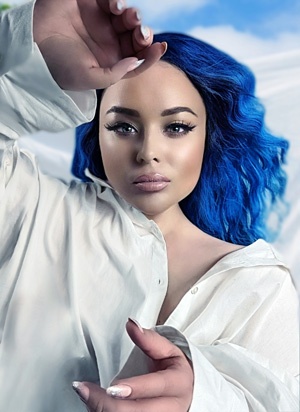 TaniA Kyllikki displays the full extent of her musicality on "H.W.C.". She takes you on a journey to show not only everything she knows about the intricacies of love and abuse, but everything she knows about what it means to make significantly thoughtful music too. TaniA Kyllikki is more than ready to make waves in the music industry.
More about TaniA Kyllikki: Born in a small town on the outskirts of London, she releases her music under 'Awe Inspiring Records', while her fiancé, Garry D. Hairston, plays a significant role in her growing success as her manager and music collaborator. TaniA writes her music in the countryside, surrounded by horses she adores. She honed her vocals singing a variety of genres as a child, including soul, R&B, and pop, and then fell in love with classical music as a teenager. She has featured on the cover of numerous magazines, and even had her single, "Remind Me", presented by three-time Grammy Award-winning R&B artist, NeYo.
TaniA was born with a cardiac abnormality that has resulted in her having small strokes. Additionally, she suffers from chronic asthma and inflammatory diseases that flare up at random times, and is a two-time survivor of Covid that nearly took her life, when her oxygen levels dropped in the 60s. Additionally, she is a survivor of emotional and physical abuse, as well as a survivor of rape trauma. Despite all the obstacles life has presented her with, she has steadfast faith in God and is determined to fulfil her dreams, as well as touch the souls of others through her music.
Connect with TaniA Kyllikki, Find out more, and Stream or Download her music via https://linktr.ee/aweinspiringrecords