Singer Sheng Belmonte shares her music in the USA
Music Artist, Performer, Actress and Miss Fitspiration 2018 PH, from the Philippines, Sheng Belmonte recently moved to the United States and is ready to share her music to a wider audience. Sheng's voice hit the airwaves in the Philippines with an award winning song (Best Collaboration and Best Rap Recording in 2012 Awit Awards, PH) that she collaborated with one of the biggest rappers in the Philippines, Gloc-9. The song played and was on top of the radio charts (#1) for a few weeks and on music video channels. With the massive success of hit song Walang Natira, Sony Music Entertainment Philippines offered Sheng a record deal and released her debut album "Sheng Belmonte." Sheng was also signed for another solo album "Sheng Belmonte – SINGLE", by one of the largest label and management companies in the Philippines, Viva Artist Agency/Vicor records. Her songs from both albums played on radio stations and music video channels across the nation, earning her nominations for New Female Recording Artist of the Year.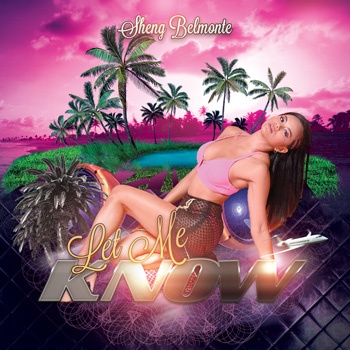 After a few years of being signed by major labels, Sheng decided to focus on becoming an independent artist and self-produced her first song "Let Me Know" during the pandemic. Her latest release "Let Me Know" is a fresh vibrant track written and produced by Marcus Davis. Sheng's idea of creating a song that speaks about being apart from a loved one – her fiancé (her now husband) – that she herself went through(they had to be LDR for almost 2 years), is a narrative that many can relate to, especially during a global pandemic.
"Let me know" is brought to life by award winning music producer Marcus Davis, in a style that anyone can sing and dance to (the usual Sheng style). The song talks about the experience of being in a long distance relationship, while also providing encouragement for those that have similar struggles apart from the love of their lives. The track is positive and fun, with a beat that makes you want to dance on the beach, on the dance floor or sing along in the moment. 'Let Me Know' is a rhythmic celebration about love, life, and the magic connections we form from being apart. Sheng also self-produced the song's official music video in Dubai and was the first time she shot a music video outdoors in the desert with a foreign team and crew.
Sheng is set to release a new track in the beginning of 2023, a song that she wrote about becoming a new and better version of herself, getting past self-doubts and going after her dreams. An inspirational and transformational track that everyone would wanna hear to set their year to a fresh (brand)new start.
Sheng has also been to a few states here in America this year, performing her original songs and a few cover songs to entertain audiences at shows and events. You may reach out to her at her social media pages for bookings and/or song collaborations. Sheng Belmonte has recently adopted to WEB3. You can check her StarstakeNFT on starstake.com very soon to get exclusive access to her.
OFFICIAL LINKS:
Instagram
https://www.instagram.com/shengbelmonte/
Facebook
https://www.facebook.com/thefitsingershengb
Spotify
https://open.spotify.com/artist/7HUmNO7rTvpCubxkBAcJUt?si=s-Ayq7QeSbKkRiTpNdUgjQ
TikTok
https://www.tiktok.com/@shengbelmonte
Twitter
https://twitter.com/shengbelmonte
Website
https://direct.me/shengbelmonte
Youtube
https://www.youtube.com/channel/UCCzfKaXZAd5Usgp3pNRWkvg
Where To Buy Music
https://music.apple.com/us/album/let-me-know/1576084968?i=1576084969